Are you looking for alumni services from your field of specialization? Or would you like to re-establish the contact with your former institute or research area?
Then become a member of the alumni organization of your faculty, thereby boosting the global network of the University of Stuttgart.
Here you will find members or groups who share the experiences they have made at the University of Stuttgart – or beyond! No matter if subject-specific or interdisciplinary – in the following you will find a club that fits you.
Alumni organizations and booster clubs
Interdisciplinary alumni organizations and booster clubs
International alumni organizations an alumni groups
Booster club of the University of Stuttgart
Contact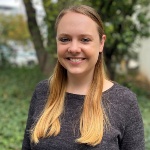 Katharina Averhage
Provisional Director Office of Alumni Relations